This trend following system was designed by Dennis Gartman and Bill Eckhart, and relies on breakouts of historical highs and lows to take and close trades: it is the complete opposite to the "buy low and sell high" approach. This trend following system was taught to a group of average and normal individuals, and almost everyone turned into a profitable trader.
The main rule is "Trade an N-day breakout and take profits when an M-day high or low is breached (N must me above M)". Examples:
Buy a 10-day breakout and close the trade when price action reaches a 5-day low.
Go short a 20-day breakout and close the trade when price action reaches a 10-day high.
In this indicator, entry and exit signals are displayed as arrows and dots. Original system is:
Go long on blue arrows
Go short short on red arrows
Exit long positions when a blue dot appears
Exit short positions when a red dot appears
This indicator should be used together with my other indicator: The Turtle Trading Channel, to represent the same period or the failsafe trading system. The important function about this indicator is that it actually checks if your last trade has been stopped out and gives further entry signals along the trend. So it is the perfect addition to the trading channel for a complete Turtle Trading approach.
I have, however, altered a little bit the algorithm to get early entry signals and avoid random trend swings in highly volatile conditions. To do so, this indicator will only show a trend change when a bar actually closes above or below the current trendline -instead of just touching it like a normal stop-loss order would do-. The downside is that you can only detect trend changes when the last bar has already closed. Just in case, the strict version is also available.
Both indicators implement trading alerts, enable or disable them at will depending on your trading setup.
This is what your trading setup shoud look like using the channel and the classic indicator.
Aditionally, this indicator also implements entry/exit alerts.
Parameters:
TradePeriod: Donchian channel period for trading signals
StopPeriod: Donchian channel period for exit signals
StrictEntry: Apply strict entry parameters like the Turtles did
StrictExit: Apply strict exit parameters like the Turtles did
StrictStop: Apply strict stop-loss like the turtled did
Greedy: Do not exit a trade unless it is in profit or the SL is hit
EvaluateStoploss: Check if we have been stopped out and show future signals
ATRPeriod: ATRPeriod to set the stop-loss
ATRStopNumber: N.Factor to calculate the stop-loss
DisplayAlerts: Displays Alerts
Is the Turtle Trading System profitable?
The performance of the Turtle Trading system has been always doubted. The following is an EURUSD (1995-2012) backtest trading all signals of this indicator -without filtering out any trade-, trading only after the current bar has closed, decreasing the exposure according to the original turtle rules, adding to positions and trailing the stop-loss using ATR*2.
And finally, the same system with a 5% initial risk for each trade (maybe too much, but fun to watch)
HOW TO INSTALL METATRADER INDICATORS ON MT4
Installing indicators on MT4 comes down to:
Downloading the files (.ex4 and .mq4 formats) – Right click the download button and Save link as…
Placing them in the MT4 "Indicators" Data Folder
Closing and re-starting your MT4 terminal
Dragging you indicator from the Navigator to the Forex Chart
Downloading the indicator.
Download and prepare the MT4 indicator file(s) so they are ready to go on your computer. (Please note that some custom indicators will come in a .rar file, so make sure to extract the .ex4 and .mq4 files).
Go back to your Metatrader 4 platform, click the File Tab and select "Open Data Folder" to get access to the system folders for the MT4 program:
Placing them in the MT4 "Indicators" Data Folder.
Go to the "MQL4" folder and the "Indicator" subfolder and open the folder.
Drag or copy and paste the custom indicators files to the "Indicators" subfolder.
Restart the MT4 program. When MT4 loads again, you should see your custom indicator added to the directory in the navigation window.
Go to the navigation window and scroll down the menu to "Indicators", pick the one you want to use and drag it to your chart.
For a video on how to install you MT4 indicators please visit our Youtube channel.
Preferred MT4 Broker – XM
Low Spreads. Low Commissions. More Value
Explore the markets with MetaTrader 4 – The world's most widely used trading platform. Simple and intuitive for beginners yet highly customisable and full of advanced features for professionals, MT4 is free for all XM clients and compatible with all major devices and operating systems.
There is a reason why over 3.5 Million Clients Choose XM for Forex Trading, Stock Indices Trading, Commodity Trading, Stocks, Metals and Energies Trading.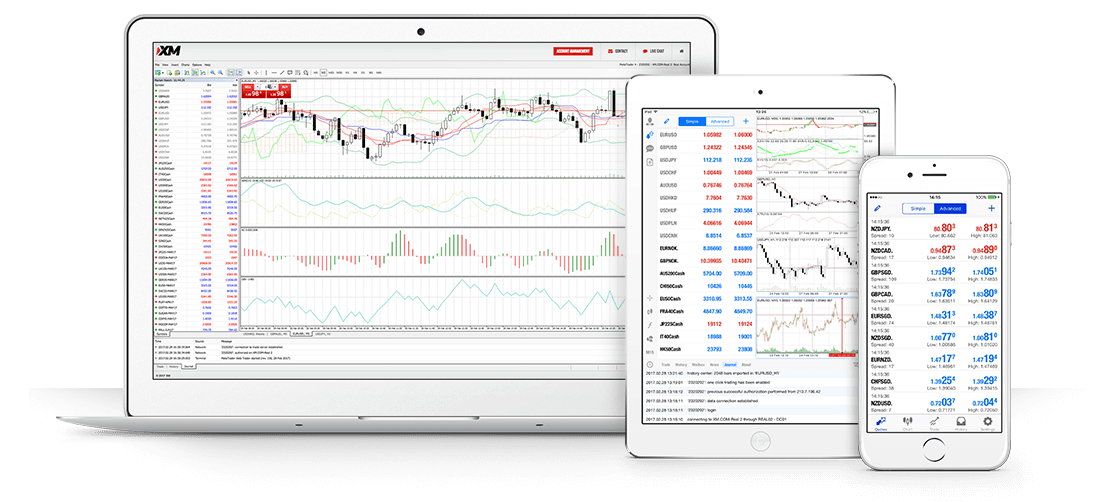 High liquidity. Fast execution. Exceptional pricing
Open your account. Trade within minutes. Full Review here
Risk Disclaimer for Forex Trading. Trading foreign exchange on margin carries a high level of risk, and may not be suitable for all investors. Past performance is not indicative of future results. The high degree of leverage can work against you as well as for you. 4xIndicators.com is a trade signal service. You understand that none of the strategies or indicators that we make availible constitutes a recommendation that any particular trade is suitable. By downloading an indicator or strategy, you are confirming that you have read and agree to all of the terms and conditions posted on our terms and conditions page. We are not responsible for the content of any sites that may be linked to or from the Site or any message board (referred to on the Site as the "forum") associated with us or the Site. These links are provided for your convenience only and you access them at your own risk. Unless otherwise noted, any other website accessed from the Site is independent from us, and we have no control over the content of that other website. We do not own the indicators available for download. All indicators are freely available on other websites and forums. If you are the owner of an indicator or strategy that we have made available for download, and you are wanting us to cease promoting it, please sent us an email and we will delete the post. If you would like the description modified, please contact us. In addition, a link to any other web site does not imply that we endorse or accept any responsibility for the content or use of such other website.